Posted on : Friday September 2, 2022
Our 2022 BCM/D Week of Prayer and State Missions Offering (SMO) is Sept. 11-18. The theme is "Mobilizing Churches for Mission," and we are so excited!
The state missions offering is an over and above gift given annually by BCM/D churches, which assists BCM/D churches seeking to obey the great commission by resourcing them with grants. 100% of the funds donated will go back to churches to help amplify their impact and empower them to do what God has called them to do.
This is an incredible opportunity to collaborate with one another as we seek to ensure that every church is mobilized for mission in the BCM/D.
Giving is a way for you and your church to participate in the Great Commission strategy specifically for this region. It's a way for you to be involved in starting more churches and reaching more people for Christ. And it's a way to change lives and develop tomorrow's leaders.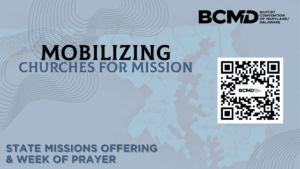 Join us in praying together through this season and giving as God leads so that together, we can lovingly unite and support one another in sharing the gospel and making disciples. We will collaborate, then celebrate what God is and will do!
Our goal is $125,000. We can do that together!
Visit our website for more detailed information, the prayer guide, downloadable materials, and an opportunity to give.
(feature photo: Adobe Images)